Eihr.com website is not updated anymore.
Please visit our new website by following the link below
http://www.secret-luxury.com/en/index.html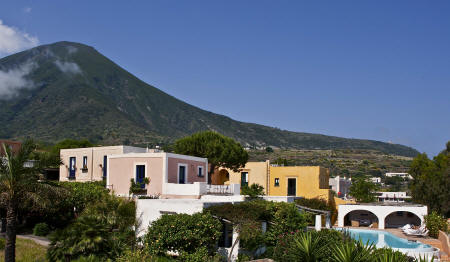 The small charming Hotel Signum is located only a few minutes from the sea, on the greenest island of the Aeolian archipelago, the island of Salina. - In the shadow of two volcanoes and surrounded by lemon trees and jasmine, this hotel is truly unique. Guests may enjoy panoramic view of Panarea and Stromboli eruptions.
The hotel is the result of a careful renovation of an historic Aeolian village, its owners'-the family Caruso-Rametta, who gave something magical to the hotel ... The concern for details and the charm of the place offer to the guests an unforgettable stay.
It's a pleasure to relax during the day around the swimming pool or on the panoramic solarium terrace, which will be transformed by the warm colours of the sunset in a magical place where you can taste a good aperitif.
The Signum is an ideal place to discover the pleasures and the scents of the Sicilian and Aeolian cuisine. Michele Caruso prepares traditional dishes using the best and freshest quality ingredients.
The traditions of the archipelago are the reason that has inspired the new opening of the wellness center Signum SPA Salus per Aquam, with treatments and products strictly made with all that the volcanic land of Salina offer.