How to go there
This beach resort is located on the south west coast of Koh Lanta Yai. - Getting to Koh Lanta is even easy for a first time visitor. Depending on your entry point into Thailand, your journey to Koh Lanta Yai is usually made from one of the transit cities of Krabi, Phuket or Trang; or from Phi Phi Islands. - But transportation can also be arranged from other nearby resort locations at, for example, Khaolak, Phangna, Ao Nang, Railey, etc.
From November to April; the resort can arrange road transportation to take you to Baan Hua Hin pier where, adjacent to the public pier, the resort maintains a private jetty and convenience station. To reach the pier, it is an approximately 3hr drive from the Phuket and Khaolak areas; 1hr 30 min from the Phangna and Trang areas; and 50 minutes if your plane lands at Krabi international airport, where you will be greeted by one of our Pimalai's representatives.
Once at the jetty, one of the resort comfortable boats will then take you for a 60 minutes scenic ride along the east or west coast of Lanta islands eventually arriving at the resort's beach jetty. Casual footwear is recommended. In all, and depending on sea, weather and traffic conditions the transfer time - Krabi international airport to Pimalai - from November to April takes, at the most, between 1hr 50 to 2hr 10min.
From May to October we drive straight from the mainland to Pimalai resort by using 2 public car ferries; the first ferry links the mainland pier to Koh Lanta Noi (15 minutes crossing time); the second one links Koh Lanta Noi to Koh Lanta Yai (7 minutes crossing time); upon landing at Koh Lanta Yai, another 30 minutes scenic drive will then take you to Pimalai. In all, and depending on sea, weather and traffic conditions the transfer time from May to October takes, at the most, between 2 hr 10min to 2 hr 30min.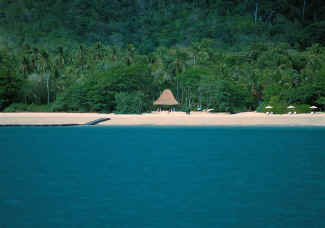 Please note that for safety reasons, the resort do not operate any of its boats between 6.00pm and 6.00am; this applies all throughout the year. Sould you arrive at Krabi international airport after 6.00pm, we can still arrange to take you down to Pimalai by using the local ferries that operate till 10.00pm (last ferry departure).
In the eventuality that you have a very early morning flight, you may have to consider an overnight stay on the mainland the day before your flight departure. The reservations staff will be pleased to advise you.
You may chose to arrive on Koh Lanta Yai by ferry from, for example, the Phi Phi islands. The ferry terminal is situated close to the village of Baan Saladan at the northern tip of Koh Lanta Yai. We can meet you on arrival and take you by car to the resort; the trip lasts about 30 minutes.
At last, it is possible to get to Pimalai Resort & Spa, using your own car. From Krabi, drive south on Highway 4 to Baan Huai Nam Khao and take the right turn on Highway 4206 to Baan Hua Hin Pier. From there take the ferry to Baan Klong Mak (Koh Lanta Noi). Drive on for about 10 minutes to Baan Lang Sog to catch the second ferry across to Baan Saladan pier on Koh Lanta Yai (Note: the last ferry runs at 10.00pm). You should now drive along the south west coast of the island for about 15 km and turn right at Klong Nin Village, just after the 7/11 shop; another 8 km of concrete road and you will be welcomed at Pimalai Resort & Spa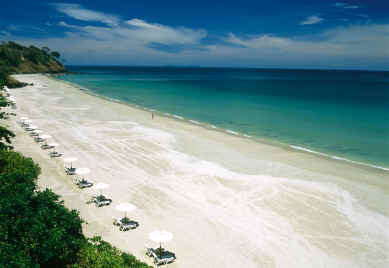 Koh Lanta
Ideally situated in the growing southern Thailand province of Krabi, Koh Lanta has converted from an 80's backpacker haunt into a new hot spots in South East Asia. And while budget travelers still find ample space to cool their heels, Lanta has gone up-market in the past years with new four and five star resorts dotting its picturesque 40 kilometers Andaman coastline. The island's proximity to Phuket, Phi Phi, Krabi and even Bangkok, makes it a great holiday alternative to other crowded and commercial tropical island destinations.
Koh Lanta is actually made of two islands; Koh Lanta Noi and Koh Lanta Yai. Koh Lanta Noi is the smaller of the two islands and doesn't have tourist facilities. Visitors traveling by road from the main land pass through the smaller island on the way to resorts on Koh Lanta Yai.

Historically Koh Lanta Yai played a major role as a safe-haven port for traders from Malaysia, Singapore and Indonesia. Originally, Si Raya (known today as Lanta Old town) on the east coast, acted as the port and commercial center for the island and provided safe harbor for Arabic and Chinese trading vessels sailing between the larger ports of Phuket, Penang and Singapore. Today Old Town is a sleepy tiny village with 100 year-old shacks and shop houses built on stilts over the water. Nowadays, Ban Saladan on the northern tip of the island is the business and commercial center where most visitors arrive on the island
Koh Lanta Yai is approximately 32 kms long by 6 kms large. It has a very diverse cultural mix with Thai-Muslim, Thai-Chinese and the original Sea gypsies, all having lived on the island in harmony for hundred years. The island is a long thin island running north-south. The west coast, where Pimalai is located, faces the Andaman sea with a string of great white-sand beaches and offers of course unforgettable sunsets. The east coast is less developed and offers glimpses of life before tourism. It faces the mainland and has a coastline largely consisting of mangrove; large limestone rocks formation can also been seen providing a spectacular natural postcard.

Koh Lanta Yai has something for everyone - families, backpackers and up-scale travelers - who can define their own meaning of living an island life. It has a beach, a resort and an activity for everyone's particular taste.