Eihr.com website is not updated anymore.
Please visit Pimalai Resort & Spa page on our new website by following the link below
http://www.secret-luxury.com/hotels/Pimalai_en.html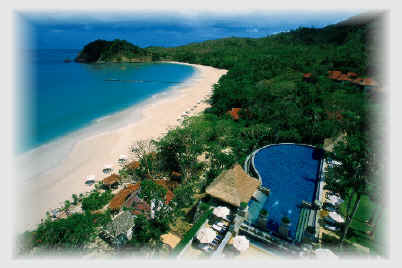 Be it for a honeymoon or a break from it all, Pimalai Resort & Spa nestled in a lush tropical forest, is the destination to set your sights on. The resort combines all the rights ingredients - subtle five star comfort, natural beauty, far from the crowds, with no noise except the sound of the waves sliding in and out and slowly breaking onto a pristine sandy beach.
The rooms, suites and pool villas feature contemporary Thai design and the superb facilities, spread in natural tropical gardens, include a variety of restaurants offering from al fresco casual dining right on the beach to formal classic Thai dining.
Set in a lush sloping valley, lies Pimalai Spa, where the winds bring flashes of light fragrances to seven pretty thatch-roofed salas, all blend totally with the natural beauty of the jungle and are used for aromatherapy massages, body wraps or scrubs treatments. An open-air pavilion standing at the bottom of the small valley is home to the Thai traditional massage whilst just across, the outdoor Jacuzzi with the adjacent herbal sauna room just awaits for you to dip in, refresh and cleanse your body before selected treatment.