Eihr.com website is not updated anymore.
Please visit Fregate Island Private page on our new website by following the link below
http://www.secret-luxury.com/hotels/Fregate-Island-Private_en.html
Early Bird Offer
Book at least 3 months in advance and
Fly one-way free by helicopter from Mahé to Fregate Island Private!
+
Complimentary additional benefits
- A 'half-day deep sea fishing excursion'
- An Introduction to scuba diving
- A welcome 'Head & Shoulders massage' at Rock Spa (55 min.)
- An introductory morning Yoga session at the "Rock Spa" (45 min.)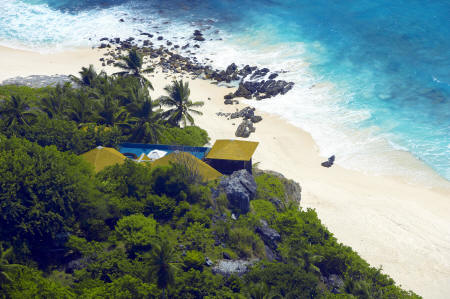 These offers only apply for new bookings during above periods.
Guests stays must be completed during the above dates.
Minimum stay of 6 nights.
This offer is combinable with all other offers (free nights offer, honeymoon, wedding, anniversary, family, ...).
Early Bird Special offer valid until 31th October, 2014
except from 12th to 26th April, 2014
for any booking made at least 3 months in advance with a minimum stay of 6 nights