Eihr.com website is not updated anymore.
Please visit Fregate Island Private page on our new website by following the link below
http://www.secret-luxury.com/hotels/Fregate-Island-Private_en.html
Dining experiences
In keeping with the resortís commitment to providing its guests with the finest quality while at the same time coexisting successfully with the islandís fragile wildlife, the chefs create gourmet meals using produce grown hydroponically in the resort gardens. This ensures a steady supply of tomatoes, eggplant, squash, cucumbers, peppers and other vegetables.
A small plantation yields home-grown pineapples, oranges, breadfruit, bananas, and a wide variety of herbs and spices.
Naturally, there's fresh fish in abundance.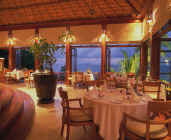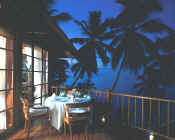 There are two main restaurants, one in Fregate House and one in Plantation House, or you can enjoy your meals in the privacy of your villa.
Fregate Island offers to dine anywhere, anytime: in the tree house, at the beach, in the plantation, or anywhere else the guests like.
The open-air Pirates Bar serves light lunches and snacks.