The Republic of Seychelles is an archipelago of 115 islands anchored in the western part of the Indian Ocean. Seventy-three of these islands are founded upon coral while the rest, including Fregate, are granitic. The nation's capital is Victoria, on the island of Mahé. Its people are known as the Seychellois.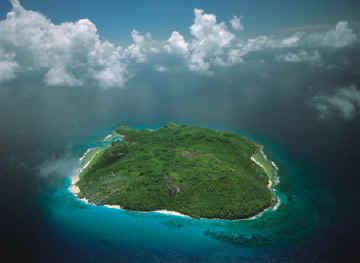 Fregate is a twenty minute flight east from Mahé. It lies four degrees south of the equator, and far, far away from the clatter of modern life: approximately 1,000 miles south of India, 1,000 miles east of Africa, and 1,000 miles north-east of Madagascar. A French colony in 1770, the Seychelles was annexed by the British in 1811, became an autonomous colony in 1975, and achieved full independence in 1976.
The island is small, which makes it ideal for exploring on foot. It covers a mere 740 acres (1.15 square miles, or 3 square kilometers). The highest point is Mount Signal, which reaches a peak of 125 meters (410 feet). The year round temperature is 24-30° Celsius (75-86° Fahrenheit), and because the Seychelles lies outside of the cyclone belt severe weather is highly unlikely.