Eihr.com website is not updated anymore.
Please visit Fregate Island Private page on our new website by following the link below
http://www.secret-luxury.com/hotels/Fregate-Island-Private_en.html
Honeymoon Special
A sparkling green jewel rising from the crystal waters of the Indian Ocean, Fregate Island Private is an idyllic haven for honeymooners seeking a blissful beginning to married life. Seven magnificent beaches, irresistible tropical waters teeming with kaleidoscopic marine life, and a profusion of rare and exotic flora and fauna – Fregate is a natural oasis of peaceful seclusion that recalls the ultimate touchstone for romantic escapism, the Garden of Eden.
Newlyweds touching down at this ultra-exclusive luxury island resort are showered with complimentary romantic treats from the moment they are welcomed with frangipani garlands and fresh coconut drinks.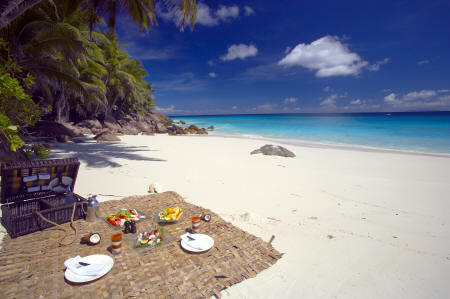 The Honeymoon Special includes the following complimentary treats:

Welcome Frangipani Garlands & Fresh Coconut Drinks

A complimentary "Pomme d'Amour" Spa Ritual offered to our honeymoon couple at the "Rock Spa" (60 min)
In typical Seychellois fashion, this unique therapy making use of home grown tomatoes will allow you to emerge from this treatment totally revitalized and rejuvenated making your skin feel fresh and smooth for the touch of your loved one

Enjoy the privacy of spending the day blissfully alone away from it all on our beach Anse Macquereau

Join the "Adopt-a-Tortoise program"
This unique program spearheaded by the "Fregate Island Ecology Department" safeguards the juveniles of the Aldabra Giant Tortoise, with "Fregate Island Private" housing the second largest population of this rare species of tortoise in the world with between 1500-2000 giant tortoises living on the island

Sample the "Fregate Passion Cocktail" with some canapés up in our "Love Nest" cocooned in the private surrounding of the Marina lookout

Experience the Honeymoon High Te on Glacis Cerf with rose ice-tea and complemented by exquisite friandise

A romantic candle light dinner up in our "Tree House" with a "Coco d'Amour Honeymoon Cake" and a bottle of sparkling wine

Your special moment captured for eternity and presented to you in a beautiful "Fregate" photo frame

Late check-out subject to availability

This offer is valid within one year following the wedding and a copy of the wedding certificate should be produced.
Minimum stay of 4 nights.
This offer is combinable with all other offers (free nights offer, early bird, ...).
Wedding Special valid all-year around
except from 23rd December, 2013 to 6th January, 2014