Eihr.com website is not updated anymore.
Please visit our new website by following the link below
http://www.secret-luxury.com/en/index.html
Dining experiences: A modern natural cuisine
Executive Chef Timothy May's easy-going way with people belies a take-no-prisoners approach to preparing his critically-acclaimed, trademark modern natural cuisine. Each dish starts with the same three ingredients; fresh, local and honest.
A granola at heart, Chef tempers classical training and sophisticated technique with a firm belief in letting ingredients speak for themselves.
Chef insists on supporting the local economy by buying fresh — letting the very nature of the region inspire exploration of a more natural method of preparation.
Regional growers and producers supply small-batch cheeses, giant oysters and scallops, free-range hens, wild salmon and halibut, just-picked berries and wild herbs and mushrooms unique to the rainforest.
Chef's modern natural cuisine favours organic ingredients over conventional, reduction sauces over cream-based, and vernacular themes over flash-in-the-pan culinary trends.
Tim considers the resorts' small size a definite advantage. "With so few guests to look after, there is plenty of time and resources to do something special every day." And special it is.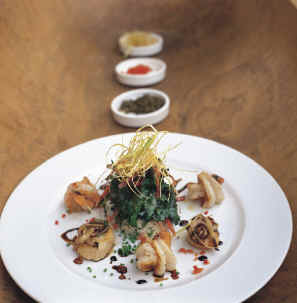 Breakfast
A typical Outpost breakfast is anything but.
Long before the camp comes to life, pastry chefs and breakfast cooks prepare a banquet of fresh sweet and savoury favourites like wild blueberry and cornmeal griddle cakes, salalberry and rosemary scones, and pacific smoked salmon eggs benedict with peamale Canadian bacon.

Housemade muesli, honeyed yogurt, fresh-squeezed juices, and luscious fruit salads are self-serve breakfast staples. Grill items are made fresh to order.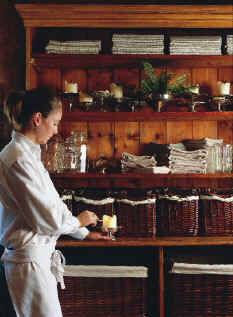 Lunch
What's on for lunch depends on what's on the go.

If alder-smoked grilled salmon over wild greens, Island lager-crusted halibut and shoestring chips, or smoked Mosquito Bay oyster and thyme chowder sound like lunch, then pull up a chair.
Wilderness adventurers take ultra-gourmet backpack lunches along for the ride — or the hike, while spa-goers and loungers can visit Chef May in the cookhouse at just about the time he checks-in for the day.
If light is right, then contemplate a made-to-order deli sandwich like free-range chicken and grilled vegetables on house-made pan bread, or a seafood brochette and wild rice and mushroom salad.

But wherever you are and whatever you are up to — lunch is served when and how you like it.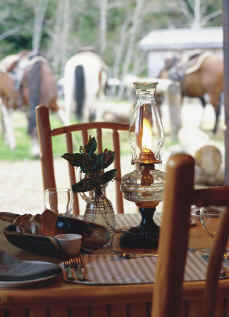 Table d'hote dinner
Chef May's legendary table d'hote* tradition began at the Quait Bay resort in 1997 and evolved to include remarkable B.C. wine pairings accompanied by enthusiastic epicurious conversation.

When the Bedwell property opened in 2000, guests requested that the table d'hote* experience be standard Outpost fare.
And so it is that guests settle in the at bistro or family dining tent, in the cookhouse dining room, or at Chef's open-kitchen bar, and embark on a coastal culinary adventure of a lifetime.
Sample table d'hote menu
Roasted organic pear and parsnip soup with
toasted hazelnut flan and fresh chives

Blue Mountain Brut — Blue Mountain Vineyards

___

Local albacore tuna tartare with grilled vegetable ratatouille,
baby brunia greens and scallion oil

Napa Valley Sauvignon Blanc 1998 — Napa Valley Winery

___

Pan-seared wild pacific halibut with marinated spaghetti squash
salad, oven-dried tomatoes and red bell pepper reduction

Mount Boucherie Semillon Chardonay 2000 — Mount Boucherie Winery

or

Apple cider-poached blue lingcod with wilted organic braising greens
tender poached potatoes and shallot broth

Kettle Valley Gewurztraminer 2002 — Kettle Valley Winery

or

Oven-roasted venison loin with sweet potato tarragon flan, baby
crookneck squash and red wine glace de viande

Black Hills Note Benne 2001 — Black Hills Winery

___

White chocolate pumpkin mousse with local organic fieldberry
blintz and vanilla sour cream sauce

Maple XO liqueur


*Four-course set-menu dinner featuring Chef's choices changes daily. Guests choose from three main-course items offered. Substitutions can be made by request. Vegetarian options offered.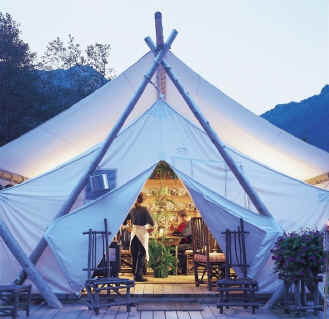 Grill & Deli
Chef loves his new "choose-your-own protein" deli-style counter in the cookhouse.

Guests choose from an ever-changing menu of main ingredients like maple and balsamic marinated salmon brochettes, or four peppercorn-crusted tenderloin medallions; then pair their grill choices with side dishes like fire-roasted baby corn and sea asparagus soup, or lobster mushroom and thyme salad.
After a respectable amount of time sipping cocktails, nippling appies and wandering over to the huge outdoor grill - to check on progress and watch for resident black bear wandering onto the estuary - return to the cookhouse dining room, Chef's open-kitchen bar, or to the bistro or family dining tents.
In short order, your custom camp dinner will arrive, and with it, recommendations for gorgeous BC wines and foreshadowing's of dessert.

Guests often opt for grill dinners mid-holiday and the table d'hote experience to begin and/or end their wilderness adventure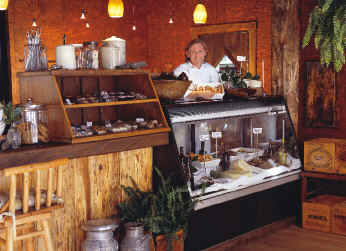 Children's fare
Not every little adventurer* can make it through a table d'hote dinner, so Chef offers young people a whole range of delicious, nutritious menu items disguised as kid food.

Entrees like thin-crust margarita pizza, penne pasta with butter and parmesan cheese, pan-seared wild pacific salmon with mashed potatoes and baby carrots, grilled chicken breast with pomme frites, and hamburgers and french fries are popular options.

Veggies and dip, giant cookies, smoothies, and fresh juice spritzers cover all the food groups.
Keepsake colouring mats and crayons occupy young minds and include puzzles and lessons on rainforest flora and fauna.
Spa-inspired cuisine
While the Outpost is not a destination spa, its gorgeous spa compound and broad range of wilderness and fresh-air adventures attracts spa-goers from all over the world -- and with them, an expectation of spa cuisine.

Because Chef May's modern natural cuisine is by nature, very fresh and whole-food-oriented, and light on dairy and saturated fats, it is a pleasure for him and his staff to modify menus to suit vegetarian, vegan, fruitarian, low-carb, high-carb, and high-protein diets.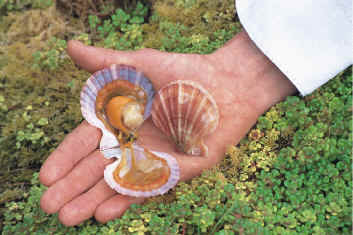 Specialty diets
Specific dietary requirements are easily accommodated by an Outpost kitchen staff used to special requests. Because all meals are made fresh to order, slight adjustments or omissions are easy to make.
A substitution here and there, and Chef's modern natural cuisine suits Atkin's, low-carb, Mediterrannean, South Beach, or diabetic diets.

If however, specialty diets involve ingredients that are not readily available to Chef and his crew, he asks that detailed guidelines be sent by fax or email at least two weeks in advance of your visit.
Allergies: Please alert the reservations office to any nut, seafood or other allergies in advance of your visit, and remind the cookhouse staff again upon your arrival. Likewise, alert staff to any insect bite allergies.