Eihr.com website is not updated anymore.
Please visit our new website by following the link below
http://www.secret-luxury.com/en/index.html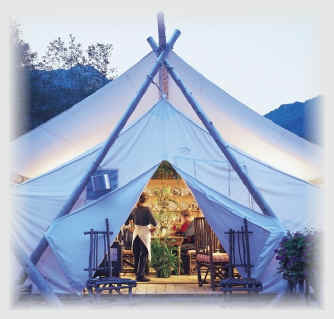 Inspired by late 19th century Great Camps, the Wilderness Outpost at Bedwell River promises a delicious irony of indulgent luxury and remote, untamed wilderness. The quintessential marriage of soft adventure and soft beds - of childhood wishes and grown-up dreams come true.
An enclave of 23 great white canvas deluxe guest and family suite tents, plus dining tents, spa tents, and lounge tents offers visitors a taste of how the fortunate spent their summers 'roughing it' some one hundred years ago.
At a glance - a remote outpost, but up close - an ultra-luxurious, 21st-century-eco-safari style wilderness playground.