Eihr.com website is not updated anymore.
Please visit our new website by following the link below
http://www.secret-luxury.com/en/index.html
Meetings & Incentive
We mean business.
But our strategies may be a little bit wild.
Fact is, we can take your leadership team almost anywhere you want to go, and they will have more fun getting there and get greater results upon arrival, than you ever dreamed possible.
We know that relaxation, play and inspiring environments are three key components of productive mental therapy. We know that in order to think outside the box, one has to get outside the box -- sometimes way out.

Past incentive travel program guests of the resort can attest that there are few greater incentives to exceed quota, than a visit to Clayoquot Wilderness Resorts & Spa.

The resort host incentive groups from North America and Europe regularly. Exceeding the expectations of those that expect the most is a welcome challenge to a staff trained to please.

Resort management and corporate sales will present to corporate groups anywhere in the world - issuing a challenge in person, in brilliant Technicolor, and building programs and events to suit.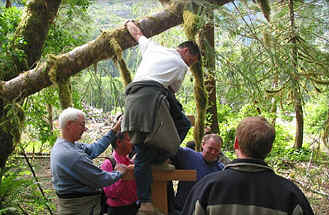 Unique venues
The newly-expanded Outpost is better-equipped than ever to handle small and medium-sized corporate retreats. The new ranch-style cookhouse can accommodate up to 75 theatre-style, and more than 100 for cocktail-style receptions. The new family suite tents can be called into service with existing deluxe guest tents, to sleep up to 46 guests ( up to 60 for family-oriented events like weddings and reunions) in complete luxury. A further 8-10 event planners and support staff can be accommodated in bunk houses.
A great white canvas meeting tent, together with four break-out tents provide ample conference and meeting space, and the resorts new wireless internet servers and state-of the-art audio-visual platforms satisfy the most demanding clients.
IT Expertise
At Clayoquot Wilderness Resorts, IT stands for "innovative thinkers." Our directors of sales, activities, food and beverage, and operations are the best in their fields; and since up here the fields are really big and really far apart, innovation is a matter of survival. The resorts host small and medium-size corporate undertakings from all over the world that require 24/7 commitment. We rise to every challenge, make things happen, get results, and meet budgets. Use your own people to direct your conference or use ours with confidence.
Connectivity
Thanks to state-of-the-art satellite technology, remote does not mean out-of-touch. Resort satellite internet service operates at speeds ten times faster than the average modem and three times faster than ISDN. Complimentary wireless internet service guests traveling with wireless-ready portable PCs, and central computers provide 24/7 internet access to guests traveling light.
Audio Visual
Both resorts have state-of-the-art audio visual platforms to accommodate current presentation and classroom-format meetings. On-site IT assistance, familiar with large screen projection, video, DVD, PowerPoint, slide presentations, and teleconferencing keeps meetings running smoothly.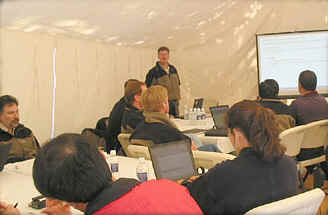 Meetings & Retreats capacities
| | | | | | | |
| --- | --- | --- | --- | --- | --- | --- |
| Facility | Theatre | Classroom | Reception | Break-Away | Dinner | Sleep |
| BEDWELL | - | - | - | - | - | 46-60 |
| Meeting Tent | 50 | 40 | 50 | 3 x 10 | 35 | - |
| Mears | | | | 1 x 10 | | |
| Flores | | | | 1 x 10 | | |
| Clayoquot | | | | 1 x 10 | | |
| Wilderness | | | | 1 x 10 | | |
| Cookhouse | 75 | 50 | 100 | 5 x 10 | 40 | - |
Amenities
Complimentary wireless internet access for personal portables
Complimentary high-speed internet access via on-site PC
Full a/v capability for meetings in the longhouse, meetings tent and cookhouse.
Meetings and Retreats convener