Eihr.com website is not updated anymore.
Please visit Island Camp Baringo page on our new website by following the link below
http://www.secret-luxury.com/hotels/Island-Camp-Baringo_en.html
Wildlife at Lake Baringo
Lake Baringo is home to over four hundred species of birds, making it an ornithologist's haven.
Baringo held the world record for the most bird species spotted within a twenty-four hour period.
One hours drive from the camp is Lake Bogoria, famous for its mass flocks of flamingo's and steaming geysers. An area of some 100 square kilometers was proclaimed a National Reserve in 1973.
Day trips are available from Island Camp to Lake Bogoria on request.
Bogoria's wildlife includes zebra, klipspringer, Grant's gazelle and Chandler's mountain reedbuck, and the rare greater kudu.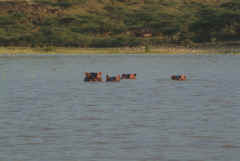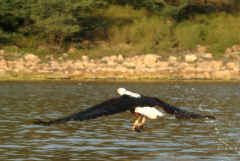 "Yes, now I remember, it was the haunting call of the Fish Eagle, you that call which still inhabits me wherever I am in the four corners of the world. The flight of the Kingfishers, the Malachite Kingfisher, a splash of the furious colours of the rainbow in a crystal clear firmament. Every shade, every shadow, the light…nowhere as that light. everything was filled with life."
Writer, Behnam Keryo's – impression of Lake Baringo.