Breakfast, Lunch and Dinner are served in the open dining room over looking the lake or if preferred can be served in your tent (no extra charges !).
Light lunches are offered in the heat of the day and comprise of salads, cold cuts & Pasta dishes.
The Dinner menu is a 5 Course Menu with a choice of Main courses.
Wednesday & Saturday Dinner is a barbeque served under the stars at the Pool side. - The pinnacle of the Camp even more spectacular and romantic to watch the full moon rise across the lake.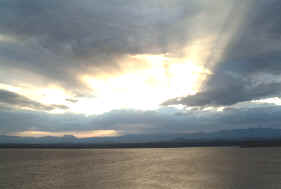 The Chef has been with the company for 28 years and has his own following of supporters. His soups are renowned and has been written up in many guides for his specialty Gazpacho.
Chilled soups are a feature of the lunches and Traditional Curries served every Sunday lunch.
Champagne Breakfast on a secluded rocky beach at the far end of the Island are offered after a scenic boat excursion around the lake (with supplement).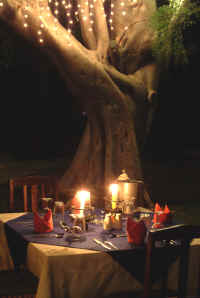 The pool bar is open from 10am – 6pm daily and the main bar each lunch time and evening.
Favorite Cocktails and the Famous Island Camp Pims are always popular!