Eihr.com website is not updated anymore.
Please visit our new website by following the link below
http://www.secret-luxury.com/en/index.html
La Posidonia Spa
Take advantage of our hi-tech equipment in a space dedicated to you spiritual and physical well being. A team of professionals, ready at your disposal, will create a personal treatment programme tailored to your relaxation and exorcism of the stresses of daily life. La Posidonia: a world of sensations for your mind and body.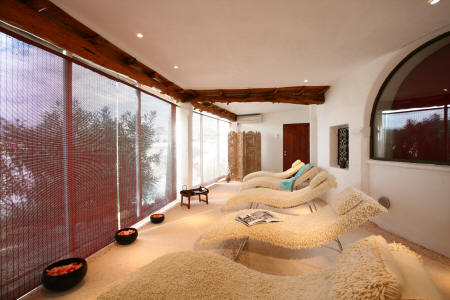 Bath of music therapy:
Spiritual relaxation through the vibrations of music.
Biothermic shower with essential oils and Scottish Shower:
Tonifying and dynamising
Relaxes your muscles and nervous system
Vichy Shower:
Excellent against muscle tiredness and stress
Jet Shower:
Localized therapy massage, stimulates the metabolism
Bath of Hydro massage:
With 252 jets of water and 8 different personalized programmes
Biothermic pediluve:
Stimulates the blood circulation and every reflex point of your feet
Steam bath:
Relaxes the body, purifies the skin and helps the breathing through essences of eucalyptus
Sauna, seaweed and mud wraps, massages, beauty centre, Rooftop sun terrace with marvelous sea view to relax after the treatments.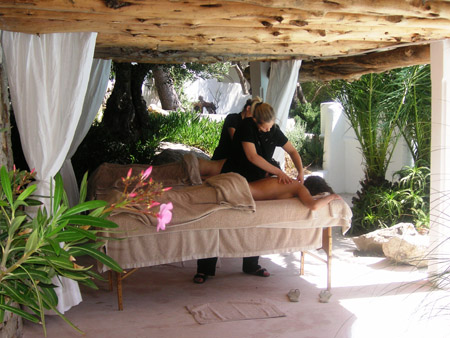 The "Cascadas Suspendidas"
Thalassotherapy saltwater treatment
Discover the Thalassotherapy Saltwater Spa, a 40 minute Thalassotherapy treatment with sea views.
Especially developed for Hotel Hacienda, it is a unique treatment that exists nowhere else in the world. The Pools and Waterfalls use the natural power of saltwater, heated to 37º, to transmit its beneficial properties to the human body via a series of therapeutic jets and cascades throughout the entire relaxation process.
After the 40 minute session, you will have reached a physical and spiritual relaxation that will leave you at peace and harmony with land and sea.
In order to optimize the effects of the bodily treatment, Doctors recommend it be repeated every 1 or 2 days throughout your stay; we therefore recommend that you make your reservations at the same time as booking your Spa sessions. To ensure availability we advise that you book before arriving at the hotel.
Cost for hotel guests: 30€ / person per treatment
Cost for non-guests: 35€ / person per treatment