Eihr.com website is not updated anymore.
Please visit our new website by following the link below
http://www.secret-luxury.com/en/index.html
Dining experiences
The philosophy of Hacienda Na Xamena cuisine has been, till now, to offer a cuisine without borders, with marked flavours and games of surprising combinations.
This year our theme "Healthy food" will allow your body to get more energy, vitamins and pleasure.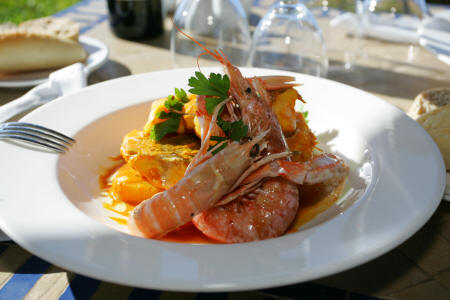 The 5 Star Chef Patric Gernsbeck will bring you to a gastronomic trip through the hotel four different restaurants:
El Sueño de Estrellas
El Sueño de Estrellas is the hotel's gourmet restaurant experience. It sits upon the edge of one of the hotel's swimming pools and is bathed in the colors of the setting sun.
Oscar Bueno Nilsson, the hotel's Catalan chef, proffers an original and generous cuisine in the romantic ambience reminiscent of one thousand and one Arabian nights.
Open daily from 20:00 - 23:00, reservation required. The restaurant is also open to the public. Please contact reception to reserve your table.
Restaurant Eden
The Eden is the Hacienda's latest midday and evening meal restaurant that has rapidly become one of the "most fashionable" places to dine on the island.
Comprising of a number of terraces set at different levels, each personal dinning area offers panoramic sea views. Choose from our wide menu of healthy Mediterranean dishes: pan fried meats, grilled fish, rices and special dietary plates created to compliment your Spa and Thalassotherapy treatments.
Open daily between 13:00 - 16:00 and 20:00 - 23:00
The restaurant is also open to the public and is perfectly set up to accommodate family or group bookings. Please contact reception to reserve your table.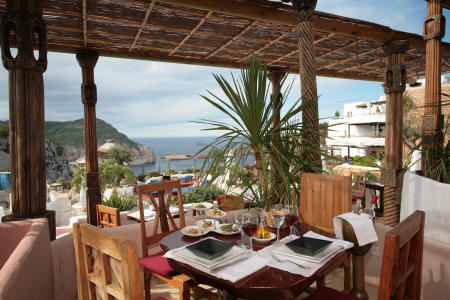 El Chill Out Lounge & Restaurant
El Chill Out is the ideal place to relax with a sangria or enjoy a natural fruit cocktail (alcoholic or non-alcoholic) with a bite to eat between courses.
The gourmet selection consists of delicate ethnic bites from all over the world: African and Asian plates, traditional sandwiches, a range of healthy salads and an assortment of original desserts.
The lounge is adorned with Balinese Buddhas and Moroccan cushions; outside, these elements are fused with the hotel's remarkable surrounding countryside and magical colors of the sky. Sipping a coffee at midday or watching the sunset on the Chill Out terrace is an unforgettable moment that many Ibizans come to indulge in.

Drinks: 11:00 - 01:00
Food: 16:00 - 20:00.
Restaurant Cascadas
It is located beside the swimming pool, with a magical sunset where you can enjoy the Mediterranean cuisine.
.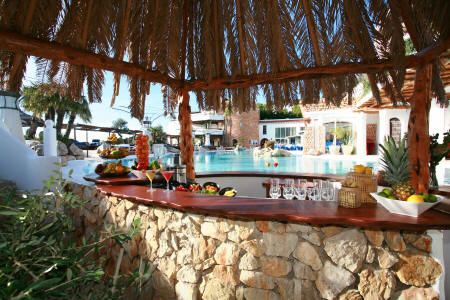 Juzz Bar
The hotel poolside bar specializing in healthy fruit cocktails.
It's open from 11:00 to 21:00

The Workshop Na Xamena
Just imagine yourself enjoying the panoramic views of the cliffs of Na Xamena, in an equipped kitchen with a semi-professional material Gaggenau. Either for individual clients or for groups, the workshop Na Xamena is the ideal place if you wish to attend cooking classes or to organize a private dinner with your friends, a wine tasting or to use it as a multifunction place for tasting or creative demonstrations.

This new activity is aimed to encourage another way of enjoying our work sharing our philosophy, the "knowing" is a pleasure in Na Xamena.

In the workshop Na Xamena, we will explain you the worldwide savors and make you taste them. Just for you to spend some good time with your friends or family.
We can offer companies the opportunity to introduce a team work. A new way of learning and motivate collaborators or clients, cooking and opening a distinct range of possibilities with a positive, enjoyable and efficient activity.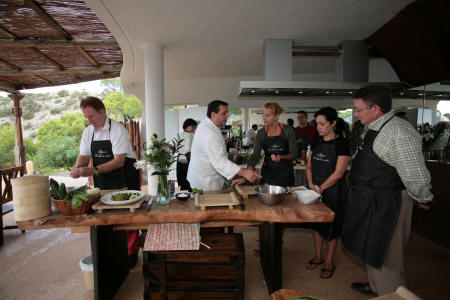 Room Service & In-Room Dining
Dedicated Room Service is available for private dining in the comfort of your room or suite.
Available from 08:00 to 01:00.