Eihr.com website is not updated anymore.
Please visit our new website by following the link below
http://www.secret-luxury.com/en/index.html
Na Xamena Suite

These are the 3 largest Suites available in the hotel. Each one offers a sea view from the main bedroom, a garden terrace with a mini swimming pool, Jacuzzi with panoramic views, separate living room and an extra bedroom (without a sea view). They can accommodate up to 4 adults and 1 baby.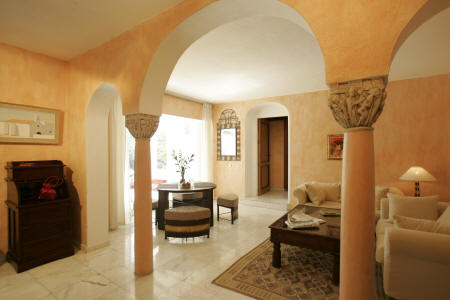 Panoramic sea view
Private garden with terrace
Two bedrooms (one with sea view, the second one with hotel view)
Jacuzzi in the main bedroom next to the window, looking out to sea
Separate living room
Air-conditioned mini swimming pool with water jet propulsion system
Two large bathrooms
Vanity mirror & Hair dryer
Air-conditioning
IDD telephone
Wi-Fi Internet access
Remote control satellite TV
Mini bar
Personal safe
Room service (08:00 - 01:00)
Laundry service