Eihr.com website is not updated anymore.
Please visit our new website by following the link below
http://www.secret-luxury.com/en/index.html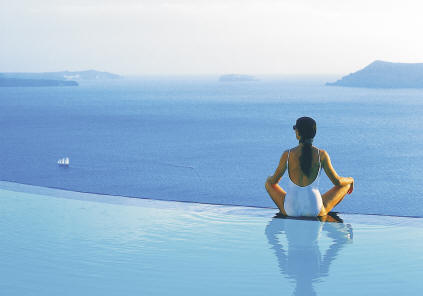 This world-class small luxury inn, situated on the cliffs high above the Aegean Sea, is a romantic hideaway in its own private Garden of Eden.
In preserving the original structures, no efforts has been spared to conserve the aesthetics of the cave houses. Minimalist in design, but without compromising luxury, the hotel embraces the philosophy that 'less is more'. Furnished with island antiques and handmade objects, simple elegance and a personal touch are conveyed. Each air-conditioned house, with its own stone terrace, offers a magical view of the sea. The Perivolas Suites, both of which feature private pools and spa-style baths, are the ideal personal retreats.
The hotel's infinity pool shimmers at the edge of the cliff, a streak of turquoise above an indigo sea. The poolside terrace offers the perfect place to be seduces by the sunset while enjoying Mediterranean dishes served by Perivolas' gourmet restaurant, once an age-old wine cellar. At night, light from dozens of candles reflect off the white, hand-sculpted walls of the Perivolas Bar. The nurturing environment of the wellness studio completes the refreshment of body and soul.