Eihr.com website is not updated anymore.
Please visit The Gangsa Private Villa by Kayumanis page on our new website by following the link below
http://www.secret-luxury.com/hotels/The-Gangsa_en.html
Sports & Leisure activities
Beach facilities
Sanur beach, with its extensive walkway weaving a delightful path along the coastline, is edged with colorful market stalls and casual cafes to create an ambience that befits the simple pace of life here.
the gangsa's beach facility in Sanur has been established for sun-worshippers to enjoy a comfortable day by the sea in a designated area set up with permanent sun-lounges and umbrellas. complimentary transportation to and from the beach facility, as well as within the Sanur area, is available daily on request.
A delicious gourmet picnic and sunrise breakfast can also be arranged and personally delivered in a traditional basket by a butler.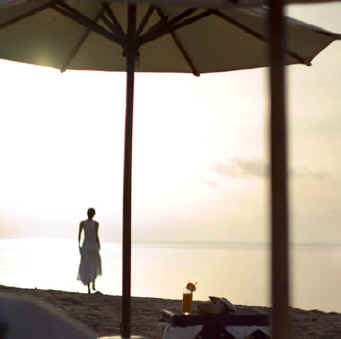 Facilities for families
As a family oriented property that warmly welcomes children, the gangsa offers an array of services and facilities especially to anticipate the comfort and needs of our younger guests.
Baby cots and high chairs are readily available for parents travelling with small children. a qualified babysitter can also be arranged for parents to enjoy some quality time out alone.
Suling Kids play room is a play center for children to come and participate in fun and educational activities.

Various guest activities
the gangsa has compiled a unique collection of guest activities to ensure that an enriching experience is had by all.
Sunrise Indulgence
Experience an authentic spiritual Balinese blessing ceremony in the home compound of a Hindu priest before continuing on to watch a dynamic performance of the barong dance.

Balinese traditional rice field tour
This fascinating interactive tour explores Bali's rural landscape and explains rice cultivation. a stop is also made at a plantation to see how chocolate, coffee, lemongrass and other tropical produce is grown.
Balinese cooking lesson
Learn culinary secrets from our chef with a one-day cooking course that begins with a trip to a colorful traditional marketplace and culminates in a unforgettable meal.
Balinese personalized photo
Dress up in traditional Balinese costume and have the moment captured with a photograph as a personalized moment of the island's cultural heritage.
Daily Balinese cultural demonstration
Bali is renowned for its rich culture and religious traditions. guests are invited to participate in the art of creating the temple offerings that are made daily to appease the Gods.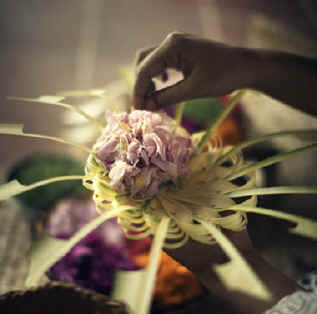 Hideaway picnic lunch at Ubud Village
Enjoy a delightful picnic in a secluded and natural hideaway village near Ubud where life seems to have stood still for the last 20 years. For those who would like to experience an extraordinary luncheon looking out over one of nature's most dramatic views, the gangsa's hideaway picnic is a must. Luncheon includes a visit to some of Ubud's more interesting sites.
Sunrise breakfast
Witness the dawn of a new day on the spiritual island of Bali and enjoy our unique sunrise breakfast. we will drive you to our private beach club before the first rays of light filter over the horizon.
Romantic candle light dinner
Prepare yourself for a romantic interlude under the stars that you will cherish forever. the gangsa candle light dinner will be an intimate experience with personalized service set up in the secluded environment of your private villa.
Beach picnic lunch
Enjoy a trip to our beach club located at the golden sands of Sanur Beach featuring a selection of permanent sun-loungers, umbrellas and bamboo mats. You can arrange to have a lavish picnic lunch delivered by one of our butler. the basket contains an array of refreshments and gourmet picnic favorites to be savored whilst enjoying the tropical ambience of the sun, sand and sea.
Afternoon Tea with Balinese cultural lesson
Complimentary Afternoon Tea with traditional Balinese cakes is served daily in the privacy of your villa. Every Tuesday and Friday tea is served in the garden and accompanied by a cultural activity.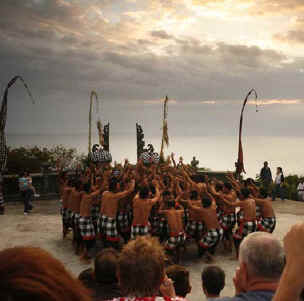 Twilight sensation
Pamper yourself with combination of an indulging spa treatment and cultural excursion to the inspiring cliff top temple of Uluwatu on Bali's southern peninsular. this unique activity commences mid-afternoon with a nurturing one hour treatment at rebab spa to revive the senses. - You are then transported to Uluwatu temple for a mesmerizing performance of the vibrant kecak dance against a sunset backdrop. As darkness descends, the next stop is Jimbaran Bay to enjoy a succulent seafood dinner grilled to perfection and a chilled bottle of white wine on the beach.
Exotic BBQ dinner
Entertain an intimate circle of friends with full service in the manner once reserved for the privileged few. A BBQ party at the gangsa is the perfect choice for social gatherings set up on your private poolside deck in tropical surroundings. Avaibalbe for Balinese BBQ and exotic BBQ which include suckling pig. Both BBQ packages include a glass of house wine.