Eihr.com website is not updated anymore.
Please visit The Gangsa Private Villa by Kayumanis page on our new website by following the link below
http://www.secret-luxury.com/hotels/The-Gangsa_en.html
Exciting dining experiences
gong restaurant
gong is the signature restaurant of the gangsa specializing in the finest in traditional Balinese cuisine whose exotic flavors begin with the harmonious blend of the freshest local ingredients, herbs and spices available. offering an intimate and relaxed setting, gong is an ideal venue for couples or small parties seeking stylish dining and a delightful culinary adventure.
Private dining
Private dining takes on a whole class of its own when a villa is magically transformed into a candlelit haven for two. a romantic dinner or BBQ feast is served poolside for an intimate evening to cherish always. an extensive 24-hour in-villa dining service anticipates guest needs with an enticing menu of Balinese, Asian and Western specialties designed to cater to all taste preferences.
Personalized dining experiences
the gangsa also offers other personalizes dining experiences for your culinary delight: beach picnic luncheon, hideaway picnic to Ubud, or learn a new Balinese recipe with our chef.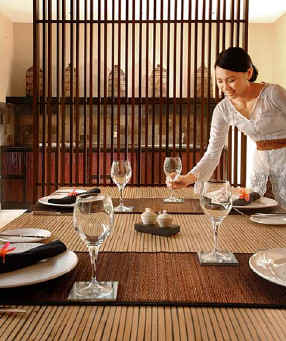 The Balinese Rijsttafel
the gangsa presents an exciting dining experience at gong restaurant: Balinese Rijsttafel - Indonesia's legacy of a real culinary pleasure to sample some of the Bali's best cuisines.
A selection of the island's richest and flavorsome dishes are presented in one grand meal. The freshest seafood, beef, chicken pork and vegetables are carefully prepared with the local's best herbs and spices by our Balinese chef to tantalize your senses.
Accompanied by steamed yellow rice and spicy condiment, this tasty array of cuisine is a heritage from the era when Indonesia was under colonial Dutch rule.
Balinese Rijsttafel is available everyday for lunch and dinner at only 20 USD per person. - Diners will have the unique opportunity to embark on a flavorsome journey of local culinary tradition.

New dining menu
A delicious new in-villa menu has recently been created for the gangsa.
Celebrating Asia's culinary traditions, the menu features a selection of Japanese, Thai and Korean specialty dishes especially for guests who prefer familiar cuisine from home.
However, those who take pleasure in the challenge of sampling the exotic tastes of the unknown will certainly enjoy this exciting new menu that ventures across South East Asia.