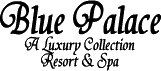 Eihr.com website is not updated anymore.
Please visit Blue Palace, A Luxury Collection Resort & Spa page on our new website by following the link below
http://www.secret-luxury.com/hotels/Blue-Palace_en.html
Dining experiences
At the Blue Palace we put great emphasis to the culinary experience.
With a range of restaurants offering different cuisines in varied environments, each dinner has an entirely unique feel. Allow our executive Chef, Mr. Alexandros Lefkaditis, who has received prestigious awards together with his team to guide you through gourmet choices, dégustation menus, the delicious culinary Greek tradition, authentic Italian fare or celebrated Asian cuisine accompanied by excellent wines with the help of our expert
sommelier.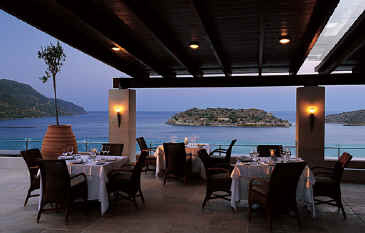 Olea Main Restaurant
On Olea's beautiful enlarged veranda enjoy your breakfast with a great view. A grand buffet that includes dishes prepared live for you, a selection of traditional and healthy choices, and French Champagne is laid out daily. International cuisine Table d'Hote is also available at Olea for dinner.
L'Orangerie
On the stylish veranda of L'Orangerie, enjoy a starlit dinner of exquisite quality and taste. L'Orangerie is the resort Gourmet Restaurant set in a beautiful environment with pebble mosaic terraces and large Cretan pots. The Chef prepares delicious dishes inspired from around the Mediterranean Sea, which can be accompanied by am exquisite wine suggested by the Sommelier.
Asia Blue
Fusion cuisine at its best! Our Chef prepares inspired dishes from the Asian tradition including Polynesian, Chinese, Japanese and Thai. Leave it to him to marvel you with excellent choices while gazing the sea.
Blue Door
In an old fisherman's stone house right at the water's edge you will find the Blue Door. A
charming Greek Taverna with flood lanterns and bright blue chairs, where you can enjoy the ultimate Greek dishes for lunch and dinner. Enjoy the daily catch on the open air grill,
Greek Mezé and daily specials. This is a genuine Greek Taverna experience.
Isola Grill
Great casual lunches by the beach with favourite Italian cuisine and hearty salads.

Room Service
Dedicated 24-hour Room Service is available for private dining in the comfort of your room.
Special Menus
A low calories menu is available for lunch and dinner for our guests that follow a healthy diet. Children's menus are at your disposal for both dinner and lunch, while vegetarian plates are also available.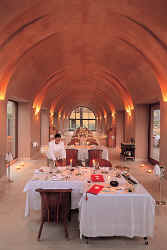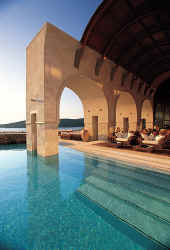 Relaxing moments may also be spent in one of the 3 bars:
Arsenali Lounge
The Arsenali Lounge, situated at the lobby area serves exotic cocktails, coffees and light snacks throughout the day. Enjoy your drinks in the relaxed comfortable white couches overlooking the gulf or lay on the comfortable Moroccan lounges indoors.
Isola Beach Bar
The Isola Bar, the beach and pool bar, offers exotic cocktails and refreshing drinks.
Votsalo Bar
The new bar, Votsalo, is located by one of the pools and is open throughout the day until 24:00 hrs, except Thursday where it closes at 18:30 hrs- for fresh juices and alcoholic drinks.