Eihr.com website is not updated anymore.
Please visit Amanwana's page on our new website by following the link below
http://www.secret-luxury.com/hotels/Amanwana_en.html
Amanwana Komodo Dragon Expedition 2014
The Amanwana Komodo Expedition is a seven night adventure cruise like no other. Encounter antediluvian creatures unchanged since prehistoric times, on a visit to the only two islands in the world supporting the Komodo dragon's natural habitat. Cruise through the Nusa Tenggara island chain to dive and snorkel some of the world's most biologically diverse, widely acclaimed underwater sites.

From Bali, guests fly east over the famed Wallace line to Flores Island and the small fishing village of Labuan Bajo to board the Amanikan, a new traditional 31m coastal cruiser that combines the ancient romance of the spice trade sailing vessels with today's modern amenities. The Amanikan is the perfect vessel for a private cruise for one or two couples or a family. Two huge staterooms are fitted with king-size beds and combine a lounge area, spacious bathroom with vanity, shower and separate toilet, plus a private balcony. Both staterooms are air-conditioned and have full views of the surrounding Flores Sea on three sides of the cabin. The teak foredeck is fitted with large day beds for relaxing, dining or sunbathing. The top deck is also fitted with sun-beds and shade cover. - A third smaller cabin is also available.

The Komodo National Park is a World Heritage Site where guests will be escorted by park rangers to view the Komodo dragons in their natural habitat. Other wildlife on Rinca and Komodo islands includes buffalo, deer, monkeys and wild horses. And everyday, from the colourful reefs of Tatawa Island to those of Komodo's Pink Beach, the dive spots on the Amanikan's island-hopping itinerary within the park feature some of the world's most pristine and remarkable marine environments.

At sunset on the fifth day, the vessel begins its overnight cruise to the nature reserve of Moyo Island where Amanwana is situated. For two nights, guests will enjoy this unique luxury-tented wilderness hideaway, with wall dives directly offshore, jungle treks to waterfalls and limestone pools, as well as spa treatments and water sports. Guests depart Amanwana by scheduled transfers for the flight back to Bali.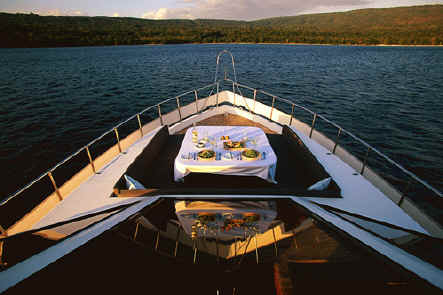 The package includes:

7 nights accommodation
(two nights at Amanwana, five nights on Amanikan)

All meals and non-alcoholic beverages

Rangers' fees for Komodo National Park and full crew

Two dives per person per day on board Amanikan

One dive per person per day at Amanwana

Package price for 7 nights *
inclusive 10% service charge and 11% government tax
USD
Euro (**)

Jungle Tent

(One couple)

34,100

± 25,250

Jungle Tent

(Two couples)

40,650

±

30,100

Jungle Tent

(Three couples)

45,950

±

34,000

Ocean Tent

(One couple)

34,450

±

25,500

Ocean Tent

(Two couples)

41,350

±

30,600

Ocean Tent

(Three couples)

47,000

±

34,800

Extension night

Jungle Tent

1450

±

1075

Extension night

Ocean Tent

1630

±

1200

* Based on double occupancy for seven nights.

* Supplementary costs:

a) Direct flight from Bali to Labuan Bajo on commercial airline at 225 USD per person.

b) Air transfers by float plane between Amanwana and Bali at 450 USD nett per person each way.

* Rates and taxes are subject to change without notice.

* USD rates are converted to local currency at time of billing.

(**) Euro rates only for information purpose. - Euro rates may varied depending on exchange rate.
Package valid from 1 May to 31 October 2014