Eihr.com website is not updated anymore.
Please visit Amanwana's page on our new website by following the link below
http://www.secret-luxury.com/hotels/Amanwana_en.html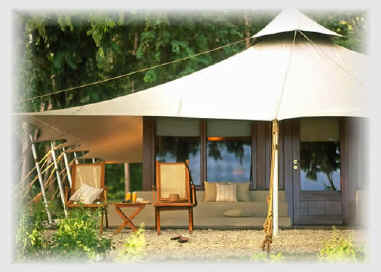 In 1993, Amanwana, or 'peaceful forest', came into being on the Indonesian island of Moyo, off the coast of Sumbawa, to the east of Bali. Luxurious, permanent tents featuring coral-stone decks, walls of glass framed in teak, polished hardwood floors and elegant fabrics in cream, wheat and honey, created an air of camp life, and ever since, this wilderness hideaway has drawn those looking for true peace and a return to nature.
The camp is set in a secluded cove overlooking Amanwana Bay and the Flores Sea. Diving and snorkelling, from the jetty and the camp's vessels, is some of the best in the region, with an incredible array of fascinating sea life on offer, from hawksbill and giant turtles to soft red coral, barrel sponges, enormous blue sea stars and a myriad of tropical fish. The island is inhabited by a unique mix of jungle animals, from deer and wild boar, to macaque monkeys, and spectacular bird life, including eagles and osprey. Walks into the wonders of Moyo's jungle world begin from camp, and lead to waterfalls and freshwater pools.
Presentation pages available soon
In the meantime, please download Amanwana fact sheet:
Download fact sheet here
or check our best available rates and current promotions for this property
:
Check our rates and current promotions
For any booking, rates, promotion and availability request, please kindly contact our Worldwide Reservations Office
by e-mail reservation@eihr.com or by phone +33 (0)3 90 204 505