Eihr.com website is not updated anymore.
Please visit Sofitel Bora Bora Private Island page on our new website by following the link below
http://www.secret-luxury.com/hotels/Sofitel-Bora-Bora-Private-Island_en.html
Find intimacy romance and natural beauty in a Bora Bora luxury hotel unlike any other. The Sofitel Bora Bora Private Island is located on a lush islet in the crystal lagoon of Bora Bora. Embark on an unforgettable honeymoon or the holiday of a lifetime.
On arrival at the airport our host whisks you through shimmering blue waters on a 20-minute cruise to your private motu or island. From the private island resort enjoy 360- degree views of endless ocean the island of Bora Bora and Mt Otemanu.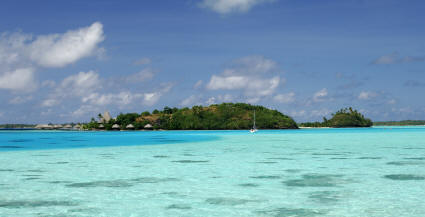 Location
The Sofitel Bora Bora Private Island is located on a private motu (islet), in the renowned Bora Bora lagoon, in French Polynesia.
Bora Bora airport is located on a small islet, 45 minutes away by plane from Tahiti. Sofitel's hostess will welcome you in the pure Polynesian tradition with flower necklaces. You will then embark on a 25 minutes trip across the azure lagoon to arrive at the hotel where cold towels and fresh coconut cocktail will be provided.
Please mention your domestic flight arrival/departure number upon reservation so that we can organize your transfer to the hotel. - Round trip transfers are complimentary for two people.

Hotel services
A full range of excellent services makes for a comfortable stay while also offering a number of activities for exploring the island and its environs.
The hotel offers, amongst other services, transfers to Vaitape village, to Sofitel Bora Bora Marara Beach Resort and Bora Bora airport; luggage storage; laundry service; medical services; bike and car rental; and a library.
In addition, complimentary Wifi access is available throughout the resort.
Spoken languages: French, English, Italian, Spanish and Japanese.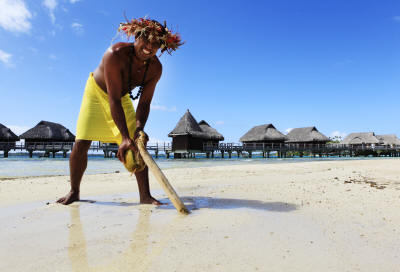 Activities and entertainment
The hotel offers a private white sand beach, lounging chairs, parasols, hammocks and beach towels, to enjoy the Polynesian sweet life.
Glimpse the colors wildlife and avant-garde natural art of the reef. Kayak the sea or wander around on outrigger canoes, as Polynesians have done for centuries. - The most beautiful coral garden on Bora Bora, around the Private Island is an invitation to immerse themselves in the underwater flora and fauna and become a snorkel, a true adventurer south Seas.
In the evening, enjoy Polynesian music and romantic moments on the beach. - For the most romantic among you, the hotel offers traditional wedding or vow renewal ceremonies.
The activities desk also proposes to discover the lagoon and its natural wonders, and many other activities like cruises, deep sea fishing, 4x4 jeep island safari tour, lagoonarium visit, jet ski, catamaran cruise, water skiing, parasailing, outboard motor boats, helicopter tours, Ecotours, …
Guests staying at Sofitel Bora Bora Private Island can also reserve activities proposed over at the nearby Sofitel Bora Bora Marara Beach Resort.
Holistic Spa
The Holistic Spa presents both a selection of Monoï massages and treatments inspired by ancestral Polynesian techniques and a relaxation program based on Tai Chi and Qigong, to heal body and mind.
Experience the soothing touch of an outdoor massage while surrounded by the beauty of a private island. Relax mind body and spirit with holistic wellness treatments in a pristine natural setting.
Strike a peaceful pose with yoga sessions on a white sand beach. Swim clear lagoon waters immersing yourself in the pure majesty of Bora Bora.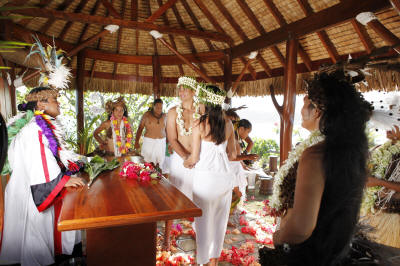 Wedding at Sofitel Bora Bora Private Island
Retreat together to an intimate enclave in the worlds most beautiful destination. Celebrate your love in a private island wedding on a pristine islet. Proclaim your eternal devotion on a sacred hilltop overlooking the crystal clear waters of Bora Bora.
Sofitel's InspiredWedding Planner brings passion and dedication to your island dream wedding - reflecting your personal love story, catering to your desires and caring for each detail, ensuring a magnificent event. - Sacred songs, prayers and dances celebrate your union in a traditional Polynesian wedding ceremony on our private island. To make your love official, our team escort you to Town Hall where the mayor or deputy will perform the formalities.
Sofitel Bora Bora Private Island accommodates wedding guests in luxurious overwater bungalows, island lodges nestled in jungle and one spacious luxury villa, all with Polynesian-inspired design, large terraces and high-end amenities.
Sofitel's chefs celebrate your special day with a passionate marriage of flavors, local traditions and exquisite presentation. Share an immaculate white wedding cake and join arms as you sip a bottle of sparkling champagne amidst the beauty of the island.
Dining experiences
Manu Tuki Restaurant
The Manu Tuki, a gourmet restaurant set under an impressive Pandanus chapel, offers a sensational panoramic 360° view of the lagoon and Mount Otemanu and the island of Bora Bora. Refined cuisine and wine cellar complete this enchanting decor.
Mako Bar
Located on a panoramic terrace (360° lagoon view), the Mako bar provide the perfect place to relax at any time of the day. Local and international cocktails, we also offer a variety of cigars.
Room service
Sofitel Bora Bora Private Island offers 24h/24 room service and in-villa dining, for a romantic sinner in the privacy of your overwater bungalow or only for a snack during the day.
Clients staying at Sofitel Bora Bora Private Island can also dine at Sofitel Bora Bora Marara Beach Resort (upon reservation).