Eihr.com website is not updated anymore.
Please visit our new website by following the link below
http://www.secret-luxury.com/en/index.html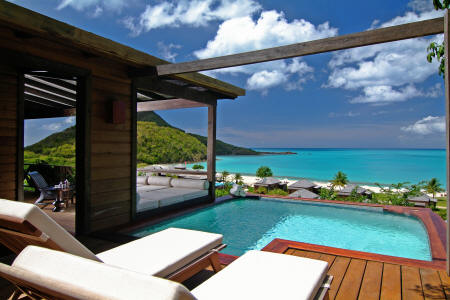 The intimate, privately-owned Hermitage Bay is comprised of just 25 luxury cottages so that "even at its busiest, the place seems remote and quaint." Whether visiting for the first time or returning as a friend, you'll enjoy a sort of members-only exclusivity and "sensation of belonging" as if the hotel was built for a select few. Tucked into a beautiful bay in one of the most secluded corners of Antigua, it is perfect for those seeking to escape the hustle and bustle of city life.
Spanning 16 acres of lush tropical gardens, our eco-chic, luxury hotel provides all the comforts of a 5 star resort without compromising the natural habitat that thrives around it. Our open-air facilities, extensive beach and detatched rooms allow you to unwind in isolated luxury. Each of the 8 beachfront cottages features a spacious split level lounge and patio, while the large wrap-around decks and private plunge pools of the 17 hillside pool suites afford the added luxury of soaking up the Caribbean sun from the privacy of your own sun bathing deck.
Whether enjoying lunch by the pool, dining in the beachfront restaurant, or having breakfast in bed, every meal feels privately catered. The menus change daily and feature freshly squeezed local juices, locally grown produce, and organic ingredients. At the resort, entrées are prepared to order, special requests are encouraged, and the kitchen is always open.


Presentation pages available soon
In the meantime, please visit the official Hermitage Bay website : http://www.hermitagebay.com
For any booking, rates, promotion and availability request, please kindly contact our Worldwide Reservations Office
by e-mail reservation@eihr.com or by phone +33 (0)3 90 204 505