Eihr.com website is not updated anymore.
Please visit Cerf Island Resort page on our new website by following the link below
http://www.secret-luxury.com/hotels/Cerf-Island-Resort_en.html
Dining experiences
Dining is certainly an unforgettable affair. The restaurant is perched on a cliff top with unimpeded sea views - a heavenly setting. There is a wide choice of fine traditional Creole and international cuisine, a treasure of fresh seafood and local natural produce.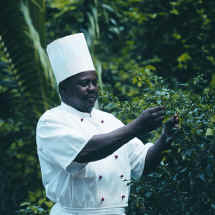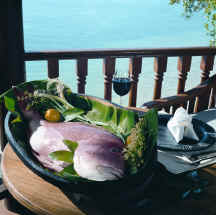 Restaurant "1756"
The fine dining restaurant has 34 seats, and a 180 degrees ocean sea view of the entrance of the National Marine Park, St Anne Island and Mahé.
The restaurant offers traditional Creole and International cuisine.
Open for breakfast (7:30 - 11:00 last order), lunch (12:30 - 14:30 last order) and dinner (19:00 - 21:30 last order).
Zepis Restaurant
New fine dining restaurant with 44 seats and spectacular views of Mahe island.
The restaurant offers Asian and International cuisine.
Open for dinner (19:00 - 21:30 last order).
Cocktail Bar
Situated at the entrance of the restaurant, the cocktail bar offers a selection of traditional and international cocktails, fine alcohols and liquors.
Open for and after lunch and dinner.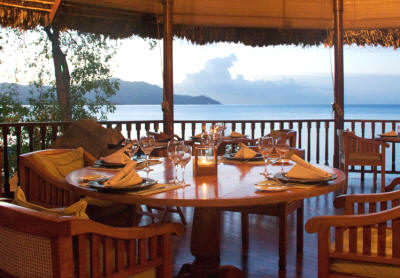 Private Dining
Private dining, i.e. a romantic beach dinner, can be arranged on any location on the premises.
Tree top private dining is now available.
A surcharge is applicable.
Two Pool Bars & Beachside Dining
Located adjusted to both swimming pools, the Pool Bars offer a light lunch and afternoon menu, fresh juices and drinks.
Along the beach, there are seating arrangements for you to enjoy your food whilst overlooking the beach.
The full service beach is served from the pool bars, all pool bar food and drinks are served on the beach.
Open daily, from 9:00 - 23:00.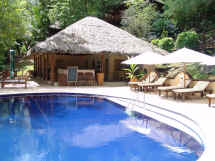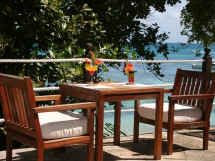 In-room Dining
The menu offers a variety of lights meals around the clock.
Guest can also opt to have their breakfast, lunch or dinner served in their room or set on their dining table – a copy of the daily menu will be presented in the room on request.
A surcharge is applicable per order.
Picnics
Guest can choose from two deluxe fillings for a picnic backpack - ideal for beach picnics anywhere.