Eihr.com website is not updated anymore.
Please visit Bucuti & Tara Beach Resort page on our new website by following the link below
http://www.secret-luxury.com/hotels/Bucuti-Tara-Beach-Resorts_en.html
Dining experiences
The Dining Terrace
Fresh local ingredients, a fusion of delicious flavors, and warm and gracious service all create a memorable culinary experience. Stylish and sophisticated, the dining terrace is the perfect place to see and be seen in an open air, beachfront setting. Listen to the lapping waves of the ocean while relaxing in the unique, modern, lounge-like atmosphere. Overhead, architectural sail awnings protect diners from the sun and the rain.

The menu encompasses an extensive American buffet breakfast as well as hearty soups, crisp salads and healthy sandwiches on the à-la-carte lunch menu. In the evenings, diners can expect fresh seafood and juicy prime steaks on the dinner menu. The restaurant manager would be happy to help you make a selection from the eclectic wine list, with many by-the-glass options.

The Restaurant Hours: Daily Breakfast 7:00 am to 11:00 am; Lunch 12:00 noon to 5:00 pm; Dinner 6:00 pm to 10:30 pm.
Romantic Dining
An intimate, romantic experience as your own personal waiter provides attentive, solicitous service under a private cabana on the beach apart from the dining terrace. Bucuti's powder white beach, the swaying palms and flickering torch lights ensure that magic is in the air. Choose from a specially designed epicurean menu for two. Reservations must be made in advance, on a first come, first served basis as only three tables are available, with two sittings per night. The price is $145 per couple including service charge.
The Romantic Dinner includes complimentary wine or champagne, appetizer, entrée, dessert and tea, coffee or espresso.

Sunset Seating: 6:00 pm
Moonlight Seating: 8:30 pm
Times vary according to the sunset; check with concierge for exact times..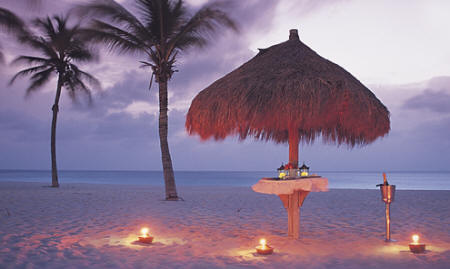 Tara Lounge
Welcoming and comfortable, the Tara Lounge is adjacent to the air-conditioned reception area. In the mornings, guests can take advantage of the full American breakfast that includes eggs and omelets, bacon, pancakes, sausage and French toast, in addition to our extensive cold buffet which offers fresh fruit, yogurts, cereals, freshly baked breads and Danishes, pâtés, cheeses, sliced meats and vegetables, coffee, tea and espresso.
In the evenings relax in the Tara Lounge with a glass of wine or a little nightcap.

Tara Lounge Hours: Breakfast is served from 7:00 am - 11:00 am at the Tara Lounge (as well as from 7:00 am -11:00 am at our restaurant), and the lounge is open for guests to enjoy for the remainder of the day
The Sand Bar
Let the expert bartenders mix you a delicious, refreshing tropical drink.
The Sand Bar is Bucuti's open-air bar on the beach, with Happy Hour daily from 4:00 pm - 6:00 pm, and live steel band music from 9:00 pm – 11:00 pm.

The Sand Bar Hours: 11:00 am to 12 midnight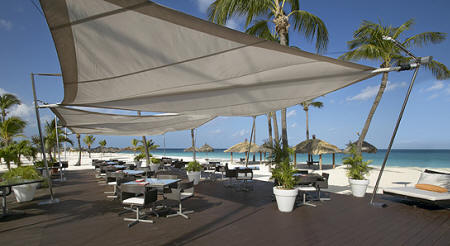 Meal plan & Dine-Around program
Bucuti & Tara Beach Resorts offer the Full American Breakfast Buffet daily at the newly renovated restaurant beachfront terrace. This breakfast buffet is now included in all room rates at Bucuti & Tara Beach Resorts. You will enjoy cooked-to-order eggs and omelets, bacon, pancakes, sausage and French toast, in addition to the extensive cold buffet offering fresh fruit, yogurts, cereals, freshly baked breads and Danish, pates, cheeses, sliced meats, sliced vegetables, coffee, tea and espresso coffees.
The Full American Breakfast Buffet will be available at both the Tara Lounge and our restaurant.

Dine Around Dinner Plan:
Three course dinner in a choice of 18 member restaurants of the Aruba Gastronomic Association.
Bucuti & Tara Beach Resorts are proud to offer a flexible Dine Around program that will suit even the most discerning diners. You have a choice of having your dinner at the Bucuti's restaurant, or a choice of restaurants located throughout the island. - When you purchase the Dine Around, you are given prepaid meal coupons (vouchers) upon your arrival at the resort.

Your voucher is valid for one Appetizer or Soup or Salad, Main Dish, Dessert and Coffee. Some menus have starred items that require a surcharge (for example – lobster and other market price items). Please present your voucher PRIOR to ordering and ask your waiter/tress to point out the items with surcharges.

Your vouchers are non-refundable and for personal use only (non-transferable to other persons). Please store them and treat them as cash, as they are not replaceable if lost or stolen. It is very important that you sign the voucher prior to giving it to your server.