Eihr.com website is not updated anymore.
Please visit Amantaka's page on our new website by following the link below
http://www.secret-luxury.com/hotels/Amantaka_en.html
Location: Luang Prabang, Lao PDR
Set on a large garden estate, Amantaka is housed in graceful French colonial buildings in the UNESCO protected town of Luang Prabang. Airy and elegant throughout, the décor and furnishings reflect the town's French colonial history.
Located just south of Phousi Mountain, the resort rests on a peninsula framed by the mighty Mekong and Khan Rivers. The property is an easy walk to the 32 elegant temples of Luang Prabang and the town's many historic sites including the former Royal Palace, a fusion of Beaux Arts and traditional Lao architecture. The many boutiques, bakeries and restaurants lining the town's main street are within walking distance, as is the town's fabled night market.

Amantaka offers 24 suites ranging in size from 70 to 120 square metres each. These include eight Suites, four
Pool Suites, eight Khan Pool Suites, two Mekong Pool Suites and two Amantaka Pool Suites, all with spacious interior and exterior living areas.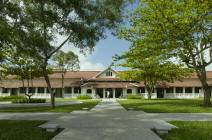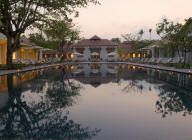 Our exclusive nightly rates
Rates per night, double occupancy, daily half board, house beverages, Afternoon Tea, one activity per day, inclusive 20% government tax and service charge.
Compulsory half board is included (breakfast and choice of lunch or dinner daily), along with return airport transfers, house beverages including house wines, and one activity per day (for example: Private guided tour around Luang Prabang; Private Mekong River Amantaka Boat Trip to the Pak Ou Caves with refreshments; Traditional Baci Ceremony and experience the Monastic Mantra Teachings; ...)

Suite: from 1320 USD (approx. 975 Euro)

Pool Suite: from 1620 USD (approx. 1200 Euro)

Khan Pool Suite: from 1980 USD (approx. 1460 Euro)

Mekong Pool Suite: from 2280 USD (approx. 1690 Euro)

Amantaka Pool Suite: from 2520 USD (approx. 1860 Euro)

Current packages, promotions and special offers

Indochina Past & Present Package (6-nights)
Valid until 31st October, 2014
Discover Indochina's past and present with a six-night journey in Cambodia and Laos, two of the greatest kingdoms in Southeast Asia.

Stay three nights at Amansara and enjoy:
*Daily breakfast and a choice of lunch or dinner, house wines and beverages.
*Two house outings per day with private guide and driver in remork.
*Round trip airport transfers.
*A morning or afternoon Tea in the traditional Khmer Village House of Srah Srang.
*A traditional Khmer style barbeque dinner.
AND
Stay three nights at Amantaka (Laos) and enjoy:
*Welcome Lao Tradional massage
*Daily breakfast and a choice of lunch or dinner, house wines and beverages.
*A private guided to Luang Prabang.
*Round trip airport transfers.
*A morning Mekong River and Pak Ou Caves boat trip.
*A traditional 60-min. Lao massage
*A traditional Baci ceremony.
* Specially Chef's dinner menu for 2 in the privacy of their own suite.
From 8900 USD (approx. 6590 Euro) for three night in a Suite at Amansara and three night in a Suite at Amantaka, based on double occupancy, with inclusions as stated, inclusive all government taxes sans service charge.
Any suites combination available upon request.

To receive more information, to request a customized quotation or to make a booking at
Amantaka