Eihr.com website is not updated anymore.
Please visit Amansara's page on our new website by following the link below
http://www.secret-luxury.com/hotels/Amansara_en.html
Location: Siem Reap, Kingdom of Cambodia
Amansara lies in the former guesthouse of King Sihanouk. This classic sixties structure has been converted into a calm oasis on the outskirts of bustling Siem Reap.

King Sihanouk commissioned French architect, Laurent Mondet, in 1962, to build a guesthouse enabling visiting dignitaries to enjoy a cool and contemporary stay while allowing them to embrace the outstanding ancient ruins and temples within its jungle and rice paddy terrain. The ruins of nearby Angkor, clinging on in the clutches of forest and farmland are today a UNESCO World Heritage Site, ranging from a cluster of bricks to the world's largest single religious monument. Amansara, previously known as Villa Apsara, has had a fretful and fascinating legacy, though this splendid architectural gem, now meticulously restored and nurtured by Amansara, has maintained its spirit of intent. It rests as the ideal portal for discovering the incredible culmination of five centuries of Khmer civilization, between 802 and 1220 AD, representing one of humankind's most profound and long-lived architectural achievements.

This tranquil home offers a multitude of relaxing opportunities within its private garden enclave: a sultry curved slate swimming pool surrounded by bamboo and taupe cushioned loungers with a shaded pergola for alfresco delights; the Dining Room, previously the screening room of King Sihanouk, is both dramatic and outstanding with a cavernous seven-metre high ceiling and a well stocked walk-in wine cellar. The 24 suites are decorated in a classic Indochinese palette of cool grey, pristine white, dark timber and ivory with private courtyards and soothing water features with 12 offering private swimming pools. The Roof Garden, surrounded and shaded by trees, with mushroom hued cushions on low seating, is the ideal venue for relaxing by candlelight with pre-prandial drinks or, invigorating yoga sessions with the rising sun. The Spa, which has four immaculate treatment rooms in dark wood and fresh white, focuses strongly on therapeutic Cambodian techniques using organic products and faces an exceptional Angkor-inspired 43m sandstone bas-relief set above a green hand tiled reflective pond.

Every suite has access to its own custom fitted remork and driver, for personal expeditions into this rich and glorious land.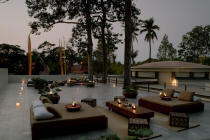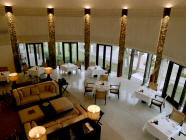 Our exclusive nightly rates
Rates per night, double occupancy, inclusive compulsory half board (breakfast and choice of lunch or dinner), house beverages and house wine, house outings twice daily in hotel remorks with an English speaking guide, 21% government tax and service charge, and 2.42% accommodation tax.

Suite: from 1650 USD (approx. 1225 Euro)

Pool Suite: from 2000 USD (approx. 1480 Euro)

Current packages, promotions and special offers

Indochina Past & Present Package (6-nights)
Valid until 31st October, 2014
Discover Indochina's past and present with a six-night journey in Cambodia and Laos, two of the greatest kingdoms in Southeast Asia.

Stay three nights at Amansara and enjoy:
*Daily breakfast and a choice of lunch or dinner, house wines and beverages.
*Two house outings per day with private guide and driver in remork.
*Round trip airport transfers.
*A morning or afternoon Tea in the traditional Khmer Village House of Srah Srang.
*A traditional Khmer style barbeque dinner.
AND
Stay three nights at Amantaka (Laos) and enjoy:
*Welcome Lao Tradional massage
*Daily breakfast and a choice of lunch or dinner, house wines and beverages.
*A private guided to Luang Prabang.
*Round trip airport transfers.
*A morning Mekong River and Pak Ou Caves boat trip.
*A traditional 60-min. Lao massage
*A traditional Baci ceremony.
* Specially Chef's dinner menu for 2 in the privacy of their own suite.
From 8900 USD (approx. 6590 Euro) for three night in a Suite at Amansara and three night in a Suite at Amantaka, based on double occupancy, with inclusions as stated, inclusive all government taxes sans service charge.
Any suites combination available upon request.

To receive more information, to request a customized quotation or to make a booking at
Amansara