Eihr.com website is not updated anymore.
Please visit Amankora's page on our new website by following the link below
http://www.secret-luxury.com/hotels/Amankora_en.html
Location: Kingdom of Bhutan
The richness of life is found in the still simplicity surrounding the remarkably unscathed geophysical and biological existence in Bhutan today. Due to a sincere Buddhist belief, adhered to since the 7th century, the co-existence of nature and nurture has resulted in a unique eco-system and a thriving mosaic of different peoples all linked by a common belief system that regards all life forms as sacred. This prevailing ethos washes the staggeringly beautiful undulating valleys, plains, deep gorges, and mountainous landscape with a force of supreme greatness; that of genuine harmony and environmental compatibility.

To this astonishing effect, Amankora has created a series of lodges, all creatively unique and sympathetically balanced to their environment, in order to discover and comprehend the extraordinary wonders above and beneath this treasured land. The lodges are created to provide a circular pilgrimage in Bhutanís breathtakingly spectacular central and western valleys.

Most journeys start at Amankora Paro or Amankora Thimphu. The lodge in Paro is nestled among glistening conifers in a 24-suite pine forest retreat. Amankora Thimphu, raised up in a blue-pine forest of the Motithang area, sits close to the capitalís intriguing sights and traditional shops.

Amankora Punakha is set in sparkling verdancy east of the Dochu La Pass and just north of the resplendent Punakha Dzong.

Amankora Gangtey, set in the remote wilderness of the Phobjikha valley, proffers magical views across the bird-strewn gorge and to the empowering Gangtey Goemba, a 16th century monastery.

Amankora Bumthang rests adjacent to First and Second Kingís palace, Wangdichholing, within the town of Jakar in the Choekhor valley, a valley sprinkled with an exotic mix of sloping pine forests, apple orchards, and restful fields of farm produce.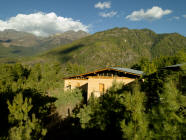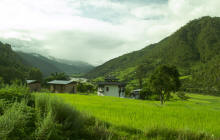 Our exclusive nightly rates
Rates per night, single/double occupancy, all meals and house beverages, daily complimentary laundry service, visa processing, inclusive 20% government tax and service charge.
Additional charges:
- FIT surcharge per night of 40 USD (for single) and 30 USD (per person for double).
- Government royalties of 65 USD per person per night for the first 8 nights ; 35.50 USD per person per night for the 9th night to 15th nights ; waived from the 15th night onwards
- Visa fee of 40 USD per person at time of booking
- Tourism Development Fund of 10 USD per person per stay
- Transfers between lodges
- Return Druk Air flights
- Travel insurance (highly recommended)
Rates valid for all Amankora lodges around Bhutan, in Paro, Punakha, Gangtey, Thimphu and Bumthang

Suite (single use): from 1740 USD (approx. 1290 Euro)

Suite (double occupancy): from 1860 USD (approx. 1375 Euro)

Current packages, promotions and special offers

Amankora Journey (min. 7-nights stay)
Valid all-year around
For guests staying seven nights or more, a tailor-made itinerary based on preferred length of stay will include complimentary:
* Long road and monument permits
* Private transport with driver and guide
* One 60-minute massage that can be enjoyed at any one of the five lodges.
A minimum of 11 nights is recommended to visit all five valleys.
Download the Amankora Journey map and lodges presentation

A number of sample itineraries have been created to assist in planning your journey:

* Download sample 7-Night Journey program

* Download sample 8-Night Journey program

* Download sample 11-Night Journey program

To receive more information, to request a customized quotation or to make a booking at
Amankora