Eihr.com website is not updated anymore.
Please visit our new website by following the link below
http://www.secret-luxury.com/en/index.html
Ultimate luxury experience of a lifetime
up to 8 guests
Somewhere beneath the stars known as the Southern Cross...
on an Island in the South Pacific you will find what people around the world call Heaven on Earth. Eagles Nest is that place, and Rahimoana—Sun God over the Ocean - epitomizes that feeling.

Rahimoana, somewhere between those seven stars and heaven, is infused with warmth and light, surrounded by the sapphire seas and untouched emerald coves of the Bay of Islands.

In sub-tropical Far North New Zealand, this sublime work of art is the essence of serenity, peace, and timeless beauty.

With exquisite food and wine and unsurpassed service and amenities, Rahimoana at Eagles Nest offers everything you need for the ultimate luxury experience of a lifetime.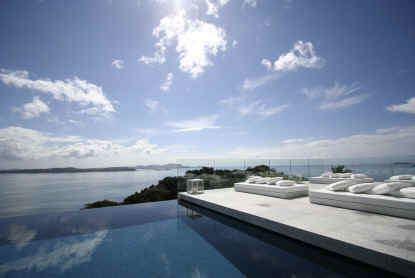 Rahimoana rate inclusions :

4 private ensuite bedrooms

Twenty five meter heated infinity lap pool

Heated Jacuzzi

State of the art gymnasium

Far infra red sauna

Surround sound home theatre with a two and half meter screen

Sound systems in all rooms

High technology office

Private native bush walk

Private beach

Advanced security throughout

Porsche Cayenne Turbo

Personal Chef

Personal Villa manager/Concierge

All meals

NZ wines and French champagne

New Zealand goods and services tax of 15%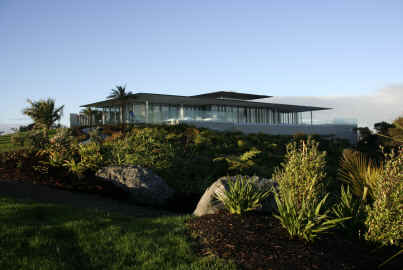 Rahimoana villa special rates
up to 8 people
Below rates are quoted in New Zealand Dollars (Euro and USD only for information) for exclusive use of the villa per night, all inclusive, for a minimum of 3 nights.

NZD

EURO *

USD *

1st April to 15th December, 2013
9.995
6.275
8.390
15th December, 2013 to 31st March, 2014
12.995
8.150
10.900

* Rates in Euro and USD for information only; we will confirm you the rates in Euro or USD at time of quotation - Official rates in New Zealand Dollars (NZD)
Offer valid year around