Blue Palace on the cover of Condé Nast Traveler USA
Edition June 2005 Issue
14 June 2005



Blue Palace member of the prestigious The Luxury Collection of Starwood Hotels & Resorts, and member of Exclusive Island Hotels & Resorts, appeared on the cover of the acclaimed Condé Nast Traveler magazine in the US. It was presented by Senior Editor Dana Dickey and photographer Thomas Loof as one of the top new European Spas.
Please find below the scanned capture.
Condé Nast Traveler has gained its extraordinary reputation by adhering to its motto "Truth In Travel". Editors do not accept free accommodation and travel anonymously thus ensuring an experience similar to that of their readers. The magazine takes pride in that they report freely, fairly and honestly on the travel industry. This has without doubt contributed to its distinctive reputation and to an extraordinary circulation worldwide.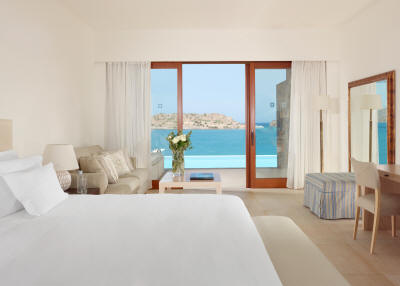 At Blue Palace and at its Elounda Spa & Thalassotherapy Dana Dickey describes her true experience as a regular guest. By presenting herself only at check out, she enjoyed the warm welcome and the special attention of our staff just as everybody else. The impressive views evocative of the myths of Zeus and the ancient Gods have been successfully captured by Thomas Loof. The isle Spinalonga right across is an always present reminder of the peaceful mythical environment that captures you from the moment you step in.
Download the scanned capture of the article in Pdf format

Contact :
For more information, please contact the Blue Palace Sales and Marketing office in Athens :
6, Koumbari Str. - 106 74 Athens - Greece
T: +30 210 36 33 551 ; F: +30 210 36 29 331
marketing@sbokoshotels.gr ; www.bluepalace.gr
or
Exclusive Island Hotels & Resorts
B.P. 80051 - 67034 Strasbourg Cedex 2 - France
T: +33 (0)3 90 204 505, F: +33 (0)3 90 204 506
bluepalace@eihr.com ; www.eihr.com/bluepalace