Newly designed Suites at the Blue Palace
01 April 2005



The Blue Palace proudly presents the newly designed Suites offering an
exclusive private ambiance making you feel home from home:

Mediterranean Maisonette Suites Sea View with private pool
Superbly designed Suites with richly appointed living rooms and bedrooms in a maisonette-style layout are nestled comfortably within landscaped gardens. The wooden terrace leads you to the private "infinity" pool overlooking the Mirabello Bay.
New features: CD & DVD player and additional decoration details.
Deluxe Suites Sea View with private pool
Luxuriously decorated Suites with spacious living room & bed room indulge their cosmopolitan guests in a lifestyle of shining luxury. Situated on the upper sea level it combines natural ambiance and elegance with unparalleled sea views.
New features: CD & DVD player, LCD TV screen, additional decoration details and stylish
garden furniture.

Island Suites Sea View with private heated pool
Sumptuously decorated Bungalow Suites designed to fulfill the highest expectations offering absolute privacy, a wooden Pergola terrace with stylish garden furniture and a majestic view of the Aegean Blue Sea.
New features: CD & DVD player, LCD TV screen, extensive additional decoration, private
heated swimming pool.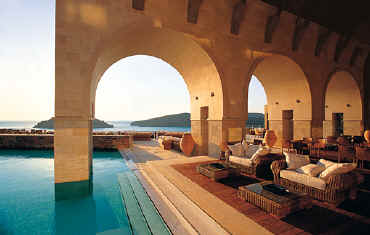 For the first year, the Blue Palace offers boat trips with the hotel's private traditional Caique (fishing boat) along the coast line of Elounda and Agios Nikolaos and to the legendary island of Spinalonga.
Also, private arrangements can be organized on request, i.e. romantic sundowner boat trips or excursions to nearby diving areas.

The Isola Beach Bar located on the waterfront is the ideal place to chill-out after an active day on the beach serving freshly squeezed juices and cocktails as well as light snacks throughout the day.

Private chapel " Agios Titus"
Our new white washed chapel is located close to the beach. Guest may take part in the holy Greek Orthodox Easter Celebration or listen to the Sunday Service. A wedding ceremony and renewal celebration followed by a most memorable honeymoon can be arranged upon request.
Contact :
For more information, please contact the Blue Palace Sales and Marketing office in Athens :
6, Koumbari Str. - 106 74 Athens - Greece
T: +30 210 36 33 551 ; F: +30 210 36 29 331
marketing@sbokoshotels.gr ; www.bluepalace.gr
or
Exclusive Island Hotels & Resorts
B.P. 80051 - 67034 Strasbourg Cedex 2 - France
T: +33 (0)3 90 204 505, F: +33 (0)3 90 204 506
bluepalace@eihr.com ; www.eihr.com/bluepalace