New unique Signature Treatments and Luxury Spa Packages at the Elounda Spa & Thalassotherapy
01 April 2005


The Elounda Spa & Thalassotherapy has created unique Signature Treatments and Luxury Spa Packages, each individually designed according to the guests' preferences and requirements.

Inspired by the Cretan traditions of the locals and the mystical cascades that they used to cure, relax, and rejuvenate, the signature treatments guide you to an invigorating thalassotherapy ritual created to infuse total exhilaration.
Firstly, strain and apprehension disappear as you enjoy our Seawater Hydro massage baths combined with a variety of Cretan Herbs.
The ritual continuous with The Elounda Wellness & Beauty olive oil and sugar exfoliation and it ends with two options: a) either the Traditional Olive Oil massage or b) the Rakotherapy massage, a treatment that guides you into the mysterious therapeutic results of raki - the traditional Cretan beverage.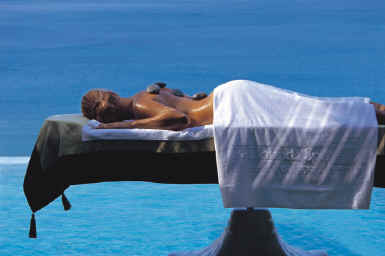 For the season 2005, we have created two more signature treatment: 1) The Elounda Deep Face Peeling with Olive and 2) The Sesame Delicate Scrub, specially made for more fragile and sensitive skin types.
Contact :
For more information, please contact the Blue Palace Sales and Marketing office in Athens :
6, Koumbari Str. - 106 74 Athens - Greece
T: +30 210 36 33 551 ; F: +30 210 36 29 331
marketing@sbokoshotels.gr ; www.bluepalace.gr
or
Exclusive Island Hotels & Resorts
B.P. 80051 - 67034 Strasbourg Cedex 2 - France
T: +33 (0)3 90 204 505, F: +33 (0)3 90 204 506
bluepalace@eihr.com ; www.eihr.com/bluepalace